Record numbers of students sign up for apprenticeships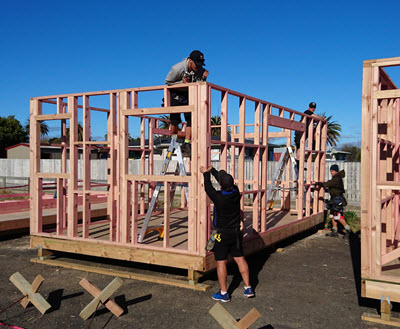 Polytechs are trying to make more space available as record numbers sign up for apprenticeships.
The number of people signing up for apprenticeships has doubled to 17,000 after the government in June made them fees free for the next two-and-a-half years.
Taumaloto Tiatia has always wanted to be a plumber but feeling family pressure to enter a profession, he became an English language teacher instead.
"Being a Pacific Islander growing up in the traditional Samoan family in South Auckland, the pressure for us is to go to university, to get that paper on the wall to make mum and dad happy, even though it's not what you wanted to do."
At the age of 35, Tau was already considering a career change when Covid-19 hit.
With the supply of new migrants wanting to learn English suddenly drying up, his hand was forced, and there was nothing for it but to apply for a six month pre-trades course at Ara in Christchurch.
Friday was his last day on the course and he was hoping his life experience and time as a teacher would give him an advantage over others when looking for a looking for an employer to take him on as an apprentice.
He was also confident his mum and dad would still be happy with his new career choice.
"I think it's just that whole perception of if you go to university, you wear a tie, it's that prestige, and so forth, but it's actually not. You know, within the trades if you're talking about security for the long-term.
"There's good money that's here. You know, it's more than just labouring, you know, picking up a shovel and drain laying, you've actually got to do a lot of math."
Lawrence Ford waited even longer than Tau before deciding on a career change, opting at the age of 49 to switch from being a painter decorator to a plumber.
"During the lockdown, it gave us all an opportunity to think things through. And then I found out basically that the government was going to have to do something to move people from different professions and retrain, and so it really helped."
Lawrence already had an employer willing to take him on as an apprentice and believed the fact he was not fresh out of school had helped.
Ara manager of Electrical and Plumbing trades Sean Flanagan said demand was stronger than ever from those looking to make a mid-life career change.
"Normally, we still have quite a few spaces leading up to Christmas and they'd be filled around Christmas or just after. At this stage we are pretty well full for next year. So we're looking at ways that we can actually address those issues and take more students."
Employers were also benefiting.
Up to 18,000 of them were being subsidised up to $12,000 in year one and $6000 in year two, if they took a chance on an apprentice.
Whitehead Plumbing owner Mark Whitehead said after years of struggling to find enough suitable people to take on as apprentices, it was great to have more mature candidates coming through.
"It's the difference between night and day really. Someone that's coming out of school, they don't necessarily always have the same work attitude.
"They don't have the same communication skills. They might not have the same ethics around working along with other people. Whereas someone that's been in the workforce, they've had those rough edges knocked off them and they tend to have a greater desire to move forward and learn faster."
Of all the trades, plumbing was the one most committed to training New Zealanders ahead of simply bringing in overseas workers, mostly because overseas qualifications did not cut it here, he said.
He was flat out with work at the moment but was waiting to see how many jobs came his way next year before deciding how many apprentices he would take on.
Source: RNZ News – www.rnz.co.nz