The Mighty Waikato River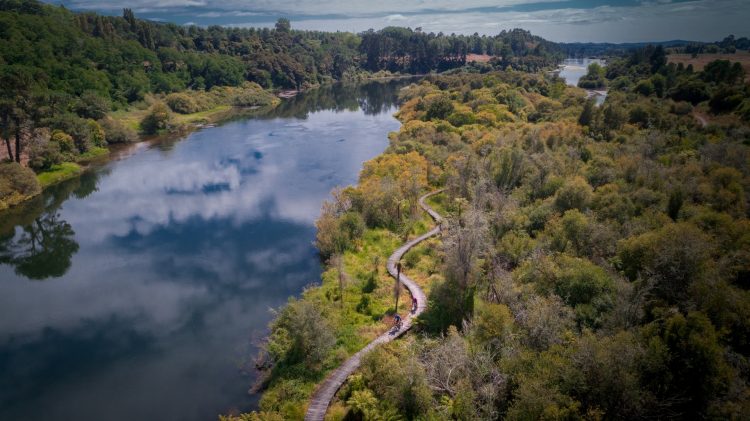 The Waikato River is the longest in New Zealand, running for an impressive 425 kilometres.
Formed largely by a volcanic eruption around 1800 years ago, volcanic debris blocked the original channel and forced the river to change directions, to west and then north. 
 
The Waikato River begins its journey in the central north volcanic zone, flowing from Lake Taupō, creating the Huka Falls, then through to the Waikato Plains and finally emptying into the Tasman Sea at Port Waikato.
A tributary of the Waikato River is the Waipā River which joins, making the two become one near Ngāruawāhia. As it makes its way out to sea, the river travels through picturesque scenery, birdlife, industrial architecture and other interesting sights.
 
For fans of the movie The Hobbit – The Desolation of Smaug, the Aratiatia Dam near Taupō hosts the location where the 'dwarf barrel' scene was filmed. The gates to the dam are open several times a day to flood the steep canyon of the Aratiatia Rapids with water. It's a very loud, even thunderous sound if you're nearby!
 
The name, Waikato, is from the Māori language and when translated means flowing water. The river is a tupuna (ancestor), taonga (treasure) and has spiritual meaning for various iwi such as Tainui Waka and Ngati Tūwharetoa. Tūrangawaewae Marae is close to the banks of the Waikato River at Ngāruawāhia. 
Enjoyed from all aspects, locals and visitors swim, row, float or cruise the Waikato River. A popular summertime activity among the younger population involves floating down the river with friends enjoying a cold beverage and relaxing while enjoying the breathtaking scenery. 
 
With paths and river trails along much of the length you can also enjoy its beauty, whether walking, running or cycling. 
 
For keen cyclists, join the cycle trail along the Mighty Waikato River and take in the sights of changing natural landscapes and hydropower dams.
If you're more into family friendly or relaxed weekend rides, you can walk the river path or drive, stopping at points along the way. 
 
The path is easily accessible between Hamilton and Ngāruawāhia or Hamilton and Cambridge, and you can treat yourself to one of a range of cafes along the way.