Tokoroa CBD upgrade delays causing frustration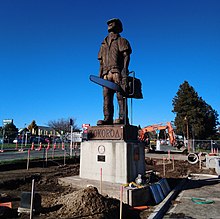 The South Waikato District Council are shaking their heads as further delays on Tokoroa's CBS upgrade have been announced.
The project was initially scheduled to be completed by April 2019 but after substantial delays, this date has been further pushed back to November 2020.
Burton Construction and Maintenance and Downer were jointly awarded the project in October last year with a June completion date.
The nationwide lockdown and supply issues with a steel subcontractor has been blamed as the cause for the ongoing delays by council project manager, Walter Williams.
However, Tokoroa Mayor Jenny Shattock, shook her head in disbelief, expressing her frustration at the further delays.
Councillor, Hamish Daine, said the ongoing construction will be hard for people and businesses in the CBD area and he feels the contractors need to be held accountable.
"As a council we [need] to put our foot down and say we are not going to tolerate being treated like this by our contractors."
Councillor Arama Ngapo-Lipscombe called for Burton Construction and Maintenance project manager, Jeff Burton, to appear before the council at its next meeting.
"I would like him to be able to address the council and our community," she said.
"We need to get to the bottom of the delays. I don't want to see Covid-19 being used as an excuse as to why this project hasn't been finished."